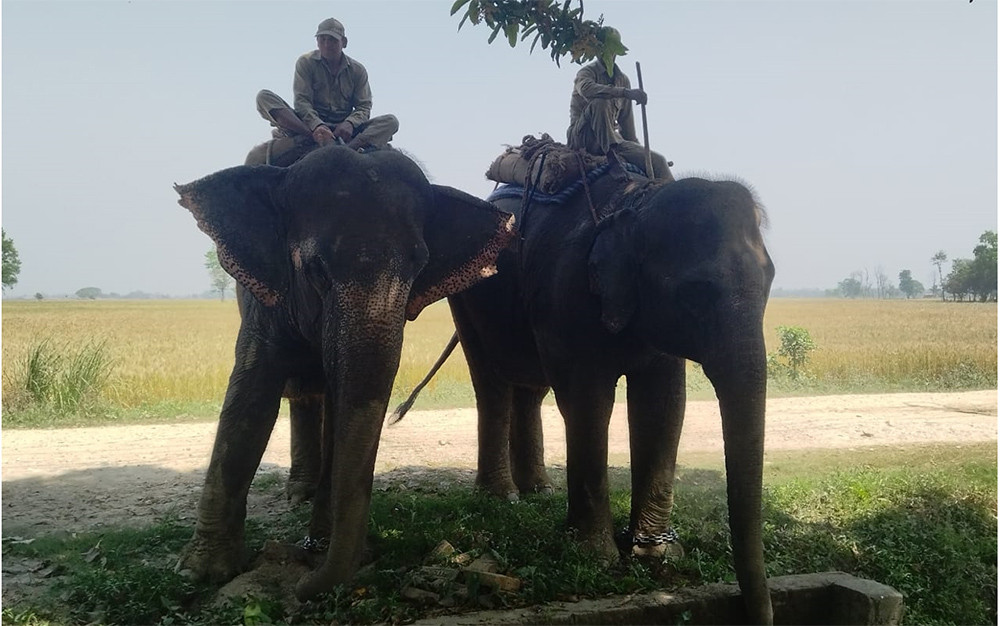 Captive elephants smuggled into India via Parsa
Acting on a tip-off, a team of security personnel from Pokhariya Region Police Bureau on Saturday arrested three people along with two captive elephants from Pakahamainpur-5 Rural Municipality in Parsa District.
Animal rights activists and investigators say the elephants were smuggled into India from Sauraha, a tourist destination near Chitwan National Park.
According to Parsa District Police Bureau, Apharoj Alam, 35, from Pakahamainapur-5 and Budiram Mahato, 60, and Raju Kumal, 40, from Bharatpur Metropolis-18 in Chitwan district were arrested under the charge of smuggling captive elephants. Preliminary police investigation shows that Alam is the smuggler while Mahato and Kumal are the mahouts.
"Our investigation revealed that Alam had brought the two elephants back from Chitwan. He has kept the jumbos in Parsa for the past year waiting for a suitable time to cross the border. We caught them before they could enter India said Deputy Superintendent of Police Om Prakash Khanal.
According to him, the trio were arrested for domesticating elephants without permission and their trade is illegal in Nepal. An elephant trades between 1 and 3 million rupees in India, he added.
Police handed over the suspects and the two elephants to Parsa National Park on Saturday. According to Santosh Bhagat, the Parsa National Park Information Officer, the Parsa Division Forestry Office has been assigned to investigate the matter.
"Elephants were subdued outside the buffer zone of the national park. So we handed the responsibility of investigating the matter to the Parsa Divisional Forestry Office," Bhagat said.
Trade in elephants has been banned by the CITES (the Convention on International Trade in Endangered Species of Wild Fauna and Flora) and the National Parks and Wildlife Conservation Act 1973. CITES, which is a global agreement between governments to regulate or prohibit international trade in endangered species, has Appendix I elephants.
Tourism entrepreneurs in Sauraha breed captive elephants to use on game drives to earn money. As the tourism industry was hit hard by the Covid-19 pandemic, these elephant owners were stretched thin as their incomes fell to zero but their expenses remained the same.
"Captive elephants, mainly old and sick ones, are taken to India and sold. We informed the police when we learned that Alam and his men were taking the elephants to India to sell them," said Shristi Singh Shrestha, an animal rights activist. "We have been informed that Alam is also planning to smuggle two other elephants. We are working to verify the possible smuggling of the other elephants.
Shrestha, who has worked for animal rights for a decade, said captive elephants from Chitwan have been smuggled to various places in India via Parsa.
"Elephants are still used in various temples and religious functions, including weddings, in India. We are working in coordination with animal rights activists in India to control elephant smuggling," Shrestha said.
According to Shrestha, there are around 100 private captive elephants in Sauraha. She said some elephant owners started selling their elephants as tourism came to a halt in 2020 due to the pandemic. Government authorities started a few months ago to register private elephants in Sauraha. However, Shrestha claims that a dozen captive elephants are missing.
"These unaccounted elephants may have been smuggled into India or kept hidden to be smuggled later," Shrestha said.