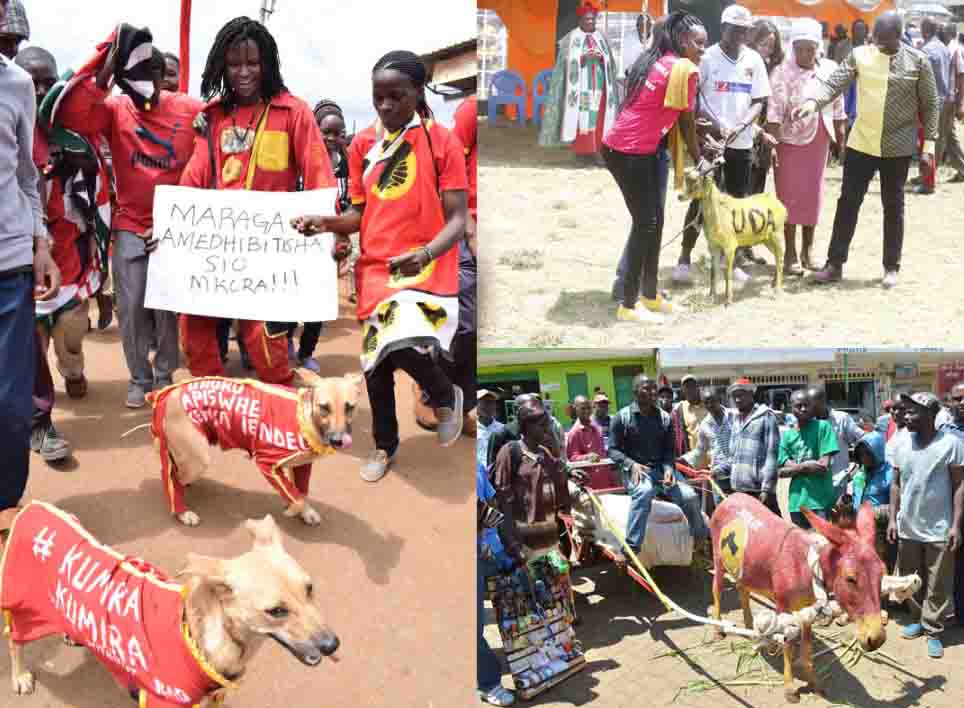 "Colorful" animals trained in campaigns by party supporters [Photos]
The use of symbols is an integral part of political campaigns around the world. But the use of live animals in political rallies is now gaining ground.
Prepared food and animals have been among the most used symbols by which Kenyans humorously express their support or dissatisfaction with a particular subject.
Last week, a group of supporters of Vice President William Ruto came under fire after they presented him with a goat painted in yellow, green and black, with his name and "United Democratic Alliance" scrawled on it.
For them, it was a gesture of loyalty and a warm welcome for a guest they see as their favorite presidential hopeful.
While the DP warmly received the gift, the youth's actions drew sharp criticism from animal rights activists led by the Union of Veterinary Practitioners of Kenya (UVPK).
"The union has noted with concern the increase in cases of animal cruelty for political reasons. Applying acrylic or latex paints to the physical body constitutes cruelty, which is punishable by law, "said UVPK General Secretary Miheso Mulembani.
On October 19, Ruto, while touring the coastal region, entered Lamu on a donkey. Many have described it as an imitation of Jesus' biblical triumphal entry into Jerusalem.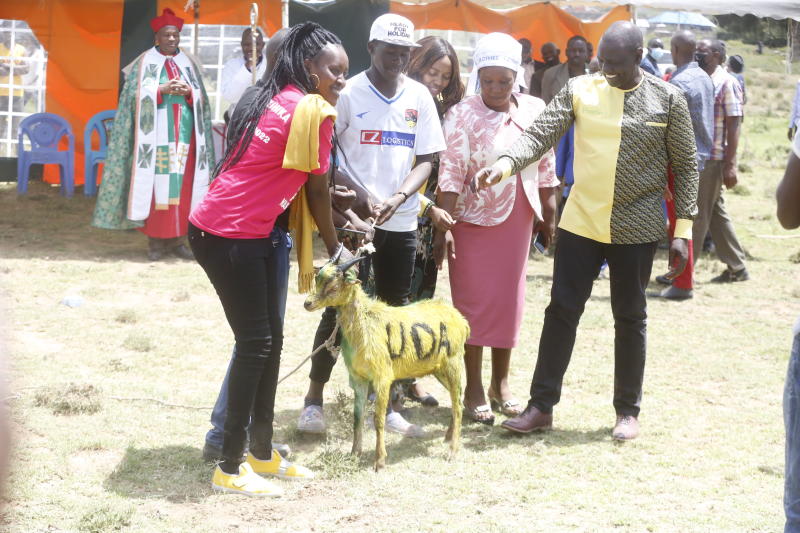 donkey riding
Although riding donkeys is a common practice in Lamu, the donkey had UDA party banners strapped to its ears and neck, which animal rights activists have also disputed.
At a One Kenya Alliance (OKA) rally in Kakamega on October 29, Kanu supporters showed up with decorated roosters, a symbol of the party.
The use of animals and birds this political season has grown in popularity as the 2017 general election approaches.
During the 2017 campaigns, a supporter of President Uhuru Kenyatta painted his donkey red, yellow and black, the colors of the Jubilee Party.
Brian Murithi, 24, from Imenti North and his donkey 'Karembo' became an internet sensation as he traversed the sub-county campaigning for Uhuru ahead of the presidential rehearsal.
"I support President Uhuru for his manifesto. My call is for people to support me by providing forage for the donkey while I move, "said Mr. Murithi.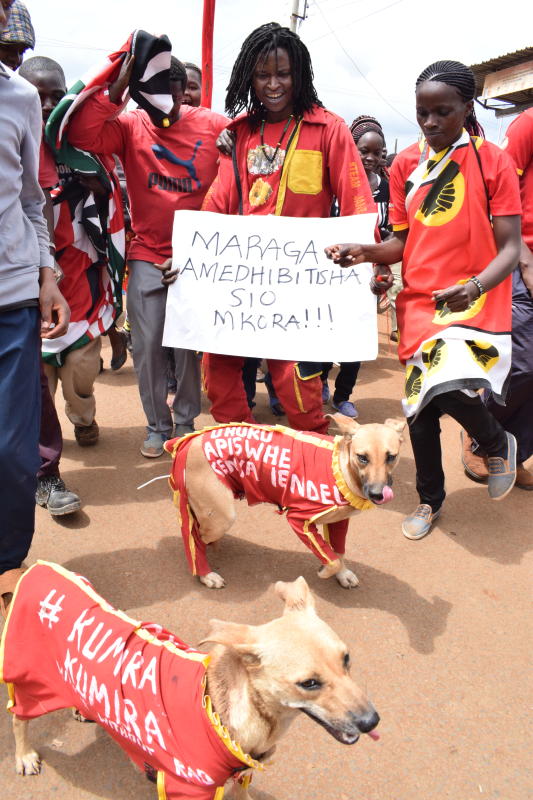 A day before Uhuru was sworn in for his second term, a man showed up at Kasarani Stadium with his three dogs. The man had dressed the dogs in the colors and symbols of the jubilee festival, with miniature flags.
Such activities have drawn the wrath of the UVPK, with the union claiming that these actions cause undue suffering to the animals.
"Animals are often mistreated, deprived of food and water, causing them unnecessary suffering and exasperation. People acting in violation of animal welfare and freedoms should be prosecuted, "the union said.
The 2017 campaigns were also punctuated by calls for lower prices for corn flour, which had reached a record level. A 2 kg package retailed for 136 shillings.
Some Kenyans have expressed their frustrations by wearing cooked ugali to political rallies in protest.
In response, President Kenyatta's administration announced that corn flour prices would be subsidized and capped the cost of a 2kg packet at Sh90.
"The subsidized price of corn flour was a political ploy. It's just a campaign gimmick. In the next two months, prices will skyrocket, "ODM chief Raila Odinga said after the announcement.