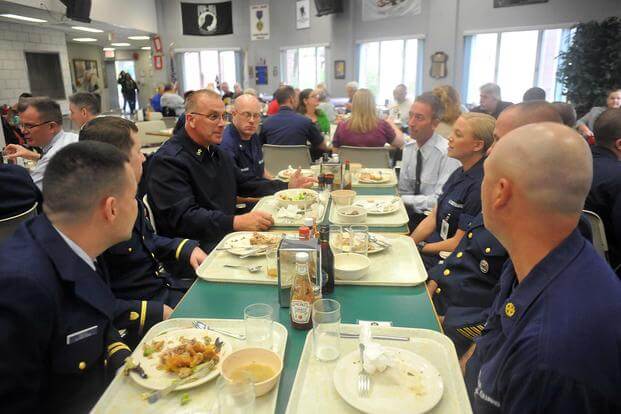 Craving Bulgogi with Jackfruit? The Coast Guard just won a PETA award for its dining options
Lemon-turmeric pasta with dried tomatoes and pistachios; creamy carrot and ginger soup; jackfruit bulgogi bowls garnished with fresh herbs and sesame seeds. These mouth-watering dishes are just a few of the tasty, animal-free options now available at one of the nation's largest Coast Guard training facilities.
the Yorktown Coast Guard Training Center in Virginia is underway reward for its main dining room's elevated vegan meal options by animal rights group People for the Ethical Treatment of Animals, or PETA, the organization announced Monday.
PETA's annual award for champions of animal welfare, the Proggy Award, is on its way to installation now, a press release added. The rights organization hopes the accolade will mark a step forward for other military bases to quickly follow suit and provide troops with better food accommodation.
Read more : How are the new army guns performing? It's classified, but soldiers will carry more weight, less ammo
"From panna cotta to passion fruit to Beyond Bolognese, students at the U.S. Coast Guard Yorktown Training Center feast on high-quality meals that are good for animals, the Earth and their arteries," says the PETA President Ingrid Newkirk in the statement. "As the demand for vegan fare skyrockets, PETA looks forward to seeing every military base progress toward offering healthy, compassionate, and environmentally friendly foods."
The main dining hall at Yorktown Training Center feeds approximately 400 to 500 students daily. When the COVID-19 pandemic hit, assembly has begun its vegan meal program as a way to create inclusive dining options for students who could no longer leave base. At one point, only around 10% of the base remained vegan, but now the ever-changing vegan menu has become so popular that many non-vegan students are choosing the creative options.
The idea to expand animal-friendly alternatives came from Petty Officer 2nd Class Ian Swoveland, a culinary specialist and graduate of the Culinary Institute of Virginia in Norfolk who came to Training Center Yorktown in 2017.
Yorktown Training Center is not the first military installation to receive praise from PETA. In 2019, the group Underline the Guns and Rockets Dining Facility at Army Fort Sill in Oklahoma to provide troops with vegan options at every meal.
Army troops can be accommodated for kosher, halal and vegetarian diets, but advocacy groups like PETA are pushing to include vegan "ready-to-eat meal" options for service members in the field.
— Jonathan Lehrfeld is a member of Military.com. Follow him on Twitter @lehrfeld_media.
Related: Ask Stew: Should a tactical athlete go vegetarian or vegan?
Show full article
© Copyright 2022 Military.com. All rights reserved. This material may not be published, broadcast, rewritten or redistributed.