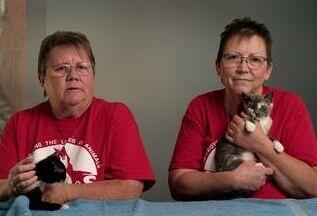 Friends of animal shelters extend their reach to the whole area | Gas
There is the company that runs the Emporia animal shelter. And then there are the Friends of Emporia Animal Shelter.
"I think it's confusing," said Deb Ghere of FEAS. "But I can't say it's not good, because we all do different things."
Ghere is the treasurer of a non-profit agency founded in 2013. FEAS is a support group for the shelter, but there is no office.
"We don't welcome animals," Ghere explained. "Occasionally, we'll help someone find a home for their pet by posting it on our Facebook page.
FEAS volunteers do their service these days through community outreach, as well as at the shelter.
"If they have a pet that they really want to keep at home… then we'll help them pay their medical bills," Ghere said. Other expenses can also be paid for by donations, such as dog kennels.
Ghere wishes FEAS could do more "TNR" – trap, sterilize and turn.
"We are taking care of a colony of feral cats," she said as an example. But she admitted that her group is understaffed to expand this.
Ghere's group is part of a new initiative from the director of the Humane Society of the Flint Hills, Stephanie Achille. It brings together all animal welfare groups in the Emporia region on a quarterly basis.
"I think that's good what she's trying to do," Ghere said. But she added: "We only had two meetings. The last meeting was not very busy.
The Humane Society and FEAS will participate in the Emporia Community Foundation matchday on Monday, November 15th. Ghere thanks all those who donate, past and future.
"I wouldn't say we're competing," Ghere said. "All of Emporia's animal groups are working for the same cause. We are all separate entities.
The 11-member FEAS Board of Directors holds monthly public meetings at the Trolley House Distillery, 502 S. Commercial.