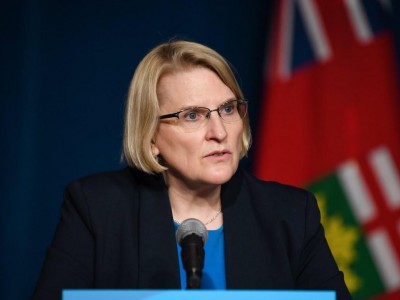 'It's immoral on every level': Health advocates and MPs slam PC plan to charge patients $400 a day for refusing hospital transfers
A bill described as "grotesque"; the "worst and cruelest bill" the Ontario Legislative Assembly has ever seen, was approved by Premier Doug Ford's PC majority last month, paving the way for a billing of $400 per day to hospitalized patients if they refuse to be transferred to another facility such as a long-term care home or an assisted living facility.
Entitled More Beds, Better Care Act, or Bill 7, it received royal assent on August 31 and allows hospitals to set up the transfer of patients to another care establishment, even without their consent. These patients require an alternate level of care (ALC). Often, ALC patients are allowed out of hospital, but stay there because of long waiting lists for long-term care or a place in a nursing home.
The Ontario government website states that the authorizations created by Bill 7 "cannot be granted without first making reasonable efforts to obtain the patient's consent." But if this consent is not obtained, the Hospital Placement Coordinator may proceed with the selection of a long-term care home for an NSA patient; provide personal health information to these prospective facilities; and allow admission to the home (even if against transfer). There are certain geographical restrictions as to where these transfers can take place. The bill allows placement coordinators in southern Ontario to transfer patients to any long-term care or retirement facility within 70 kilometers and 150 kilometers for patients in northern Ontario. province.
The legislative changes have drawn anger from opposition MPs and health advocates who have branded it ageist and discriminatory towards the older population who will be disproportionately affected, and unprecedented in allowing sharing personal health information without consent. This is despite the fact that the government's own website states that when it comes to sharing personal health information, it must abide by the regulations set out in the Freedom of Information and Protection of Life Act. (FIPPA) which specifies that obtaining consent is a central pillar.
"The fundamental change brought about by the law is that it allows hospitals, placement coordinators, to override patients' right to consent," says Natalie Mehra, CEO of the Ontario Health Coalition (OHC). "They targeted the elderly, the frail, the sick with disabilities, ignoring their fundamental rights… It's grotesque.
During the limited debate on the subject at Queen's Park, Opposition Long-Term Care Critic Wayne Gates (Niagara Falls, Fort Erie and Niagara-on-the-Lake) called the project a Bill 7 of "one of the worst and cruelest bills I have ever seen before this Parliament" and detailed the toll such forced transfers could have on those affected.
"It is completely shameful that this government refuses to understand the real human impact it will have. This bill will cause stress and, in some cases, being away from family and community will cost lives. People will never forget what you did to cause such pain. What makes it even worse, those wonderful residents, the seniors, who built this province are being targeted by this government, and this government doesn't seem to care about them," he told the assembly. legislative on August 30, accusing the government of being too afraid to hold public hearings on the bill.
"This bill is cruel, it's awful, and I'm begging all of you, all of my MPs here, to vote against this bill." His plea was ultimately unsuccessful, but he was not the only provincial deputy surprised by the PC's decision.
Despite the passage of Bill 7, Niagara Region MPP Wayne Gates continued to oppose it in the Legislative Assembly.
(Twitter screenshot)
"You are settling for hundreds of people who are going to give up on life because of the decision you are making right now," said NDP health critic France Gélinas (Nickel Belt). "Think about it. We have a responsibility to everyone in Ontario. We have a responsibility to the frail elderly in Ontario. want to live anymore. I can't live with this… I just can't. We can't solve this problem.
Yet PCs have vehemently supported the bill, with Health Minister Sylvia Jones (Dufferin-Caledon) and other PC MPs calling it necessary to build capacity in Ontario hospitals and eliminate the backlog of surgeries that has accumulated as a result of cancellations during the COVID-19 pandemic.
Natalia Kusendova (Mississauga Centre) defended her party's bill, telling the legislature that there are 5,000 ALC patients in beds in Ontario, 39% of whom are waiting for long-term care.
"That's the equivalent of 11 large community hospitals. It's a staggering number. To ease the pressures on our emergency rooms and our acute and patient care units, and to allow surgeries to return to pre-pandemic levels, we simply need to make room. The status quo will simply no longer be acceptable," she said.
The bill also received support from Mississauga health care provider Trillium Health Partners, which released a statement stressing that the changes are "a much-needed step in ensuring people can get the right care in the right place and at the right time ".
"When a patient is ready to be discharged and has been designated as Alternate Level of Care (ALC), but continues to wait for long-term care in a hospital bed, it means that 'another patient who had to be operated on or admitted to the emergency department may be left on hold until a bed can be made available,' the statement read. "This jeopardizes our ability to provide the specialist and diagnostic services that only a hospital can provide. It also means that a patient who is ready to leave the hospital for the next phase of their healthcare journey is not receiving the type of care best suited to their healthcare needs.
OHC says when it comes to ALC patients in Ontario, only a minority of them are waiting for long-term care.
"A significant block of ALC patients are waiting for hospital beds – complex continuing care (chronic care), rehabilitation, mental health beds and others. A small number are waiting for home care. (Most patients awaiting home care are sent home, where that care may or may not occur)," read a statement from the OHC.
Health Minister Sylvia Jones has defended Bill 7 as a necessary step to free up hospital capacity.
(Government of Ontario)
Advocates have pointed out that the province is essentially playing a shell game with patients in the health care system. There's no denying that Ontario's hospitals are currently in the midst of a capacity crisis, but so is the province's long-term care sector, which was revealed in gruesome detail during the COVID-19 pandemic and led to the military being called in for help in the hardest hit healthcare settings. According to the province's own data, in May 2021 there were 38,000 people on the waitlist for a long-term care bed in Ontario and the average wait time for a placement was approximately 171 days. .
"I think it's going to end up killing people in the community or in long-term care homes that they don't want to be in," said Jane Meadus, an attorney at the Advocacy Center for the Elderly (ACE). .
At an OHC press conference, Meadus explained that under changes enacted by Bill 7, long-term care homes, many of which are not meeting Ontario standards of care and cleanliness after nearly three years of disarray created by COVID, will be forced to care for more patients than they may not be able to care for properly, noting that homes do not have the ability to refuse patients in under the new bill, even though they do not have the staff to properly care for new residents.
"They will be pressured to take people they can't take care of," she said. "I really believe this is going to be a disaster for many Ontarians."
---
E-mail: [email protected]
Twitter: @JoeljWittnebel
---
COVID-19 affects all Canadians. At a time when everyone needs vital public information, The Pointer has removed our paywall on all pandemic-related stories and those of public interest to ensure that every resident of Brampton and Mississauga has access to facts. For those who can, we encourage you to consider a subscription. This will help us report on important public issues that the community needs to know more than ever. You can sign up for a 30-day free trial HERE. Thereafter, The Pointer will charge $10 per month and you can cancel at any time directly on the website. Thanks