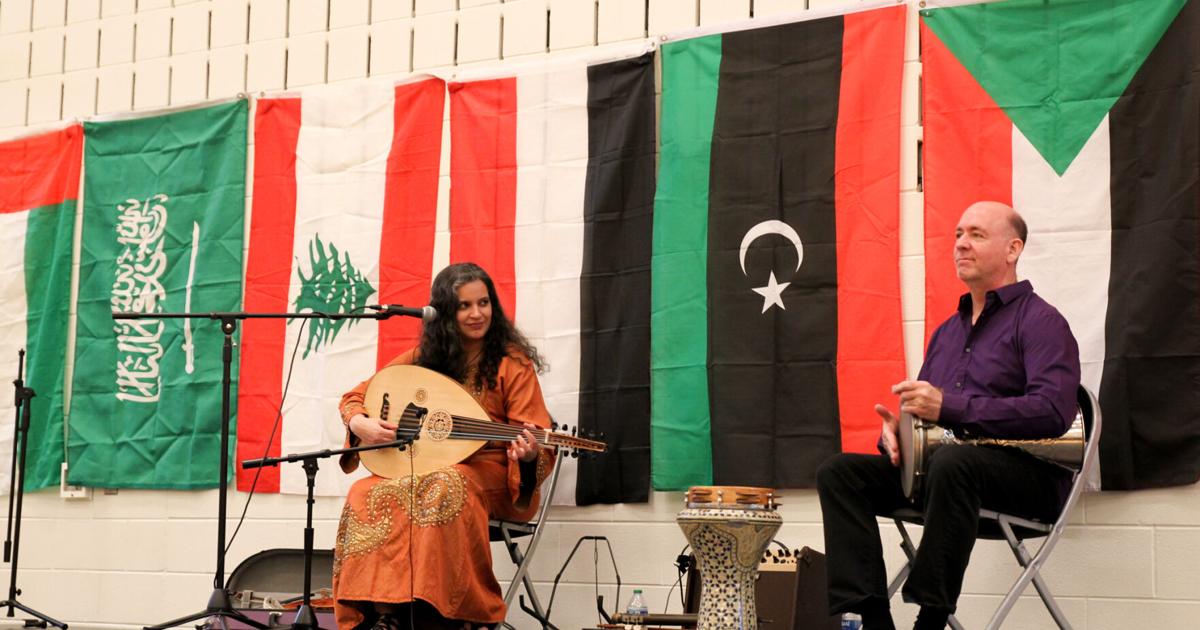 MENA Gala Showcases Culture and Advocates for New Cultural Center | Campus
Purdue's Middle Eastern and North African Student Organizations kicked off National Arab-American Heritage Month with a gala at the Cordova Recreational Center gym on Friday night.
The gala encouraged students to connect with other students from the Middle East and North Africa and showcase their cultures with food, music, dance and a fashion show.
"This is our very first gala from North Africa to the Middle East and similar to an event in the past that we used to call Arabian Nights," said Krannert School senior Mariam Alyakoob. of Management and President of the Purdue Arabs Society. "I hope everyone is having a great time."
The gymnasium was filled with booths offering information about MENA organizations on campus and resources to help students meet others from similar backgrounds.
Circular tables filled the room, decorated with centerpieces and food for guests. The southernmost wall was covered in flags of Middle Eastern and North African countries behind a stage on which live music played throughout the night.
"I think it's really special that Africans can come together in a place where you wouldn't necessarily think there are Africans," said Fehintolu Odelowo, senior at the College of Health and Human Sciences and president. of the African Students Association. "I think it's very special that we can come together and celebrate our culture, but also introduce our culture to other people."
The gala was hosted by Alyakoob and had been in production since the fall semester. One of the main goals of the gala, Alyakoob said, is to raise awareness and build support for a MENA cultural center on campus.
MaeRianna Artang, a freshman in the College of Engineering, said that currently people of MENA descent are classified as white by the US census, but in reality they are not considered white Americans.
"It's something that I struggle with a lot, because every ethnic survey I have to do, it's just like 'oh, what ethnicity are you? And I'm classified as white because that's my category. But no one sees me as such," Artang said. "I remember when I looked at Purdue, before I even walked into Purdue or accepted the letter, I was looking at their cultural centers, and I saw the Asian Cultural Center and I said 'This is not not for me. It doesn't have my people in it.'"
People of MENA descent are among the most discriminated against in the United States, Alyakoob said, but they are still added to this overarching category of whiteness to which they do not feel they belong. She believes that a cultural center dedicated to the MENA region would both offer students a home and also help them find community and support in the face of this widespread discrimination.
"There are things going on in the world that Purdue seems to recognize most of the time, and not most of what is happening in Middle Eastern countries," Alyakoob said. "I don't know why. It may be because we don't have a specific category, but we are a very distinct people. We have a very distinct culture."
Dr. Pamela K. Sari, director of the Asian American and Asian Resource Center (AAARC), expressed her support for a new cultural center to the crowd. Sari was part of the group of activists whose work led to the building of the AARC at Purdue in 2011.
"I think it's a conversation between many very diverse communities about what it means for American and Arab internationals, as well as Asian American and Asian internationals, to have different intersections of lives here on the Purdue campus," Sari said. "It's a really good conversation and sharing differences from each other that could also be similarities.
"We (AAARCC) hope that students understand that AAARCC along with other cultural centers, under the office of diversity, equity and inclusion, exists as a resource for them."
Students at the event expressed their joy at a MENA gala held at Purdue. Artang said she was excited to meet others from her same culture, as she would have others at Purdue with whom she could celebrate traditional Iranian holidays. She said a cultural center would be a big help for her and other students from the MENA region who have found it difficult to meet other people with the same cultural background.
"When it comes to bringing together MENA students from different religions and backgrounds, we don't have real meeting places and a single club that can only serve so many people at once and only organize so many events," said Faris Amarneh, a freshman in the Faculty of Health Sciences and Humanities. "A MENA Center will help establish a launch pad for the community to thrive at Purdue University."
The petition to support a MENA cultural center is available on the Purdue Arabs Society Instagram page @purduearabs.