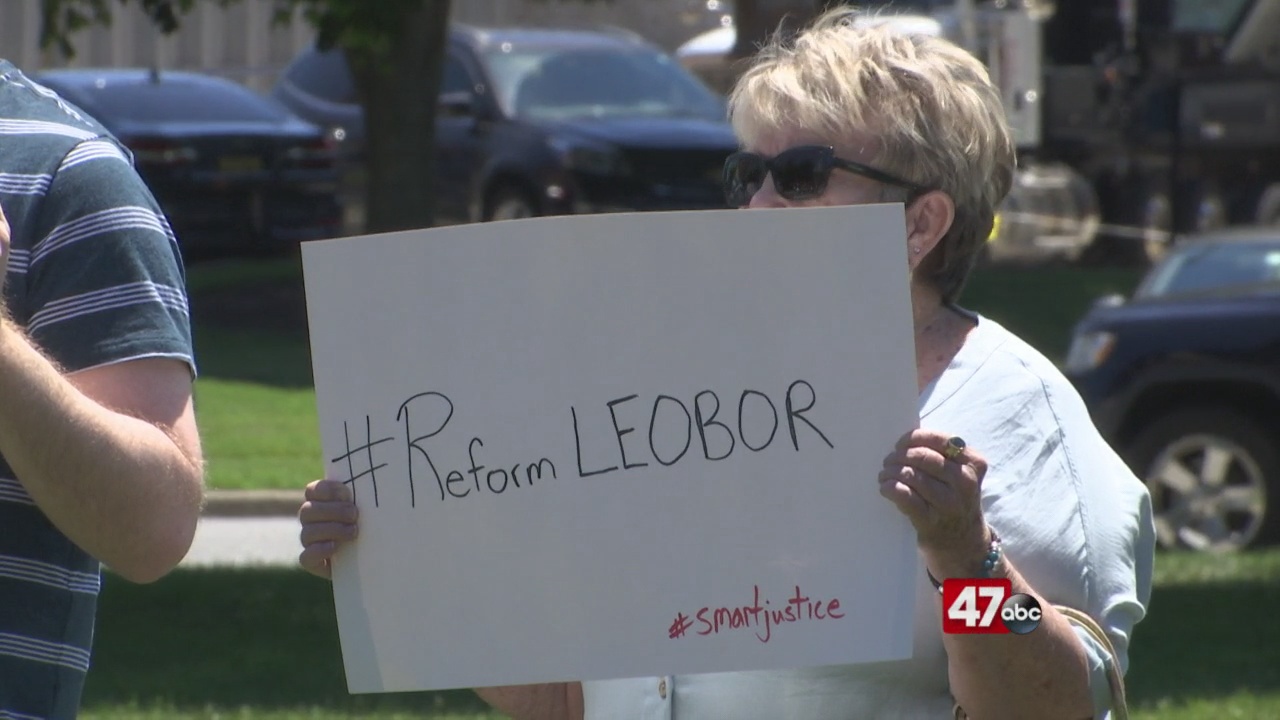 Police reform supporters gather in Dover to push for an amendment to the Law Enforcement Bill of Rights
[ad_1]
Dover, Delaware – Police reform supporters gathered outside the Dover Legislature on Wednesday afternoon to voice their demands for more bills under the Justice for All program "presented by the bipartisan Legislative Black Caucus be passed during the current term.
The Delaware ACLU was one of the organizations that organized the rally, which focused on lobbying lawmakers to pass SB149; a bill that would reform the Law Enforcement Officer Bill of Rights (LEOBOR) to allow misconduct and complaints against police officers to become public information.
"We would like the LEOBOR to be amended so that it allows the public to have access to police misconduct records and civilian oversight bodies to exist," said the executive director of the Delaware ACLU, Mike Brickner.
He said that with the end of the legislature, he wanted to show lawmakers that people were still motivated by this reform.
A study published by the Delaware ACLU found that 70 percent of Delawarens were in favor of reform.
"We absolutely have to get the public to push for these changes to happen," Brickner said.
State Senator Elizabeth Lockman has written, and is the primary sponsor of Bill SB149, saying the reform will bring trust and accountability between the police and the communities they serve.
"This would create transparency around the files, disciplinary files of law enforcement officers accessible to the defense council, the public and the media," she said.
She believes that making the record public paves the way for civilian review boards that would oversee the conduct of police officers in addition to internal police discipline.
"While a civilian review board cannot bring this law enforcement expertise, it certainly brings experience of how its community is engaged by its officers," she said. .
Critics of the bill, including State House Rep. Steve Smyk, say the wording of the bill may in fact prevent police officers from being able to serve their community.
Representative Smyk told 47ABC that while he supported police accountability, he wanted the reforms to stand up to legal scrutiny and be practical for departments to implement.
"If you have types of these reforms, you want to make sure it's something the courts would recognize and something that can be done in a reasonable way," he said.
Representative Smick believes that complaint forms should not automatically become public, as he believes that many complaints against agents are not made in good faith, but rather by those who wish to "improve their status as part of criminal proceedings or simply in retaliation for an arrest, "he said.
"I think we should share with the public any complaints made against police officers once these allegations have been investigated and verified," said Representative Smyk.
Senator Lockman says that despite these criticisms, the bill is almost at the finish line.
"I've heard that LEOBOR needs to be changed and I think we're about to do it," she said.
Lockman told 47ABC that if the bill does not pass in this legislative session, it would be one of the first measures she plans to reintroduce in January 2022.
[ad_2]