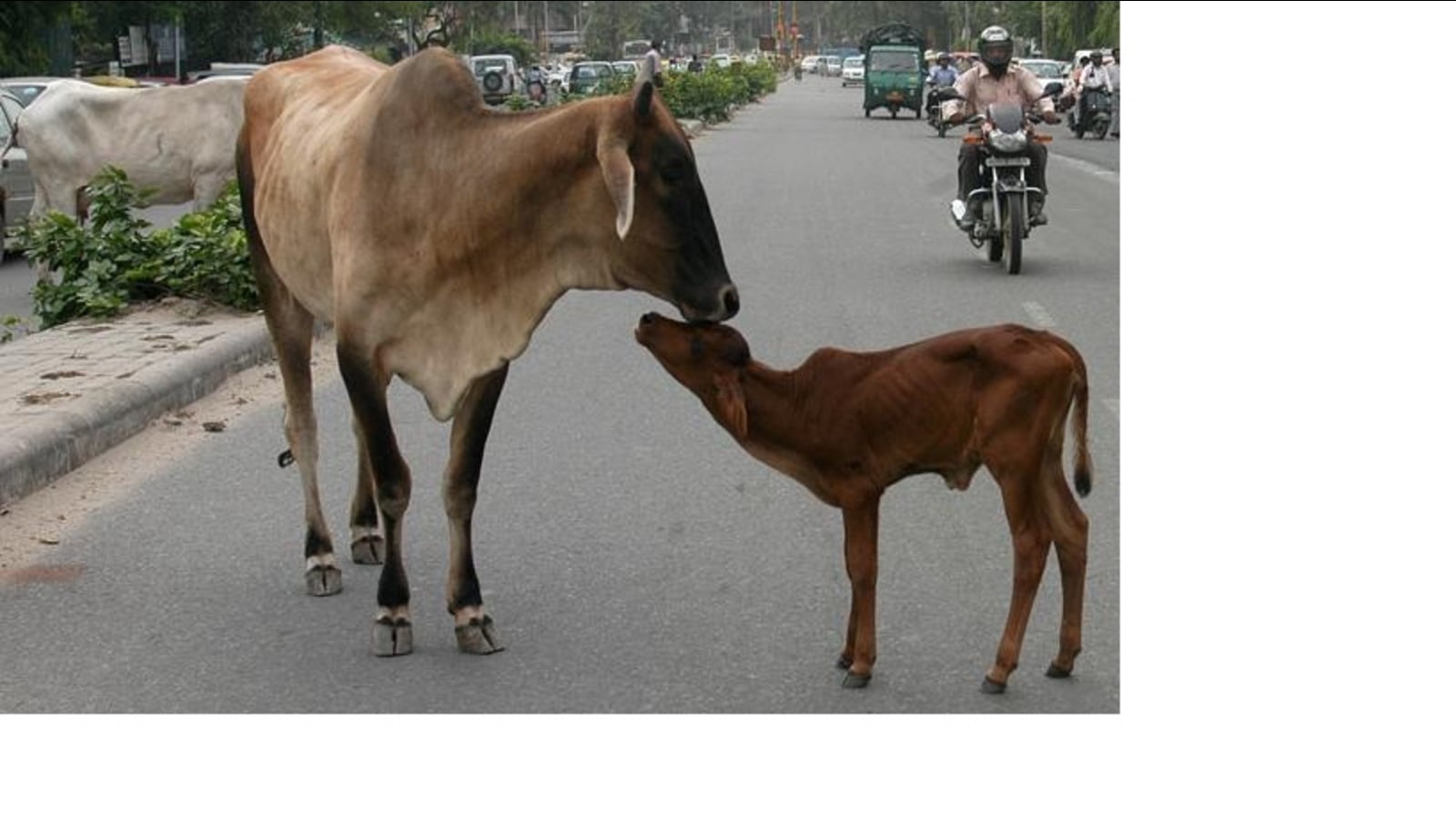 Prayagraj: Two dairy owners arrested for torturing a calf
Colonelganj police arrested two people for allegedly beating a calf and dragging it roughly down the road after tying it to a rope. A video of the incident went viral on social media following which an animal rights activist filed an FIR against the duo on Sunday.
Animal rights activist and lawyer Awadhesh Rai said a Manoj and a Sunil ran a dairy in the Chandpur Salori area. On Saturday, the duo beat a calf after consuming cow's milk at their dairy. The duo then tied a rope in the legs of the calf and pulled him roughly.
On Sunday, Awadhesh Rai, Vanshika and other animal rights activists arrived at Colonelganj police station and filed an FIR against Manoj and Sunil.
SHO Colonelganj Ram Mohan Rai said that upon taking immediate action on the complaint, an FIR was filed against the accused under the Animal Cruelty Act and they were arrested.
During questioning, the defendants revealed that the calf belonged to their neighbor and that it drank cow's milk at their dairy, he added.
Close story
"All governments consult stakeholders when developing any policy": Manish Sisodia

Delhi's Deputy Chief Minister and Excise Minister Manish Sisodia in an interview with Hindustan Times said multiple investigations initiated by central agencies will not reveal any wrongdoing by him or the Aam Aadmi Party government in Delhi. Prime Minister Narendra Modi and the Bharatiya Janata Party are not interested in ending corruption but want to stop Arvind Kejriwal's growing popularity across the country, he said.

Delhi air traffic controller tests positive for psychoactive substance

An air traffic controller at Delhi airport has tested positive for a psychoactive substance and has been removed from his post by aviation regulator DGCA, sources said on Sunday. The sources said that an ATC stationed at the Indira Gandhi International Airport (IGIA) here was subjected to the drug test. The test is conducted for flight crew and ATCs on a random basis.

Rajasthan: 4.1 magnitude earthquake hits northwest Bikaner

An earthquake measuring 4.1 on the Richter scale struck northwest Bikaner in Rajasthan in the early hours of Monday, the National Seismological Center has informed. "Earthquake of magnitude: 4.1, occurred on 22-08-2022, 02:01:49 IST, Lat: 29.38 and Long: 71.45, Depth: 10 km, Location: 236 km northwest of Bikaner, Rajasthan," the NCS tweeted. Earlier on Saturday, an earthquake measuring 5.2 on the Richter scale struck north-northeast of Lucknow.

More than 800 government buildings owe Chandigarh MC ₹84 crore property tax

More than 800 buildings from Punjab, Haryana and Chandigarh central governments and even UT administration are on the defaulter list, which are given recovery notices with a two-week delay. PU guesthouses owe MC more than ₹1.21 crore. Similarly, the unpaid tax on different canteen buildings in PU is around ₹3.91 crore. Haryana Mini Secretariat has a pending bill of ₹1.41 crore, Haryana Printing House ₹30 lakh and Haryana Revenue Court ₹9.57 lakh.

20-year-old man stabbed to death in road rage incident in Chandigarh

In the second killing in Chandigarh in as many days, a 20-year-old was stabbed to death by four men amid a road rage scuffle on the Sector 17/22 split road on Sunday morning. The victim, Sagar, lived in phase 2, Ram Darbar, and worked in a factory. Acting quickly, a Criminal Branch team arrested all four defendants within five hours. Their car was also found.