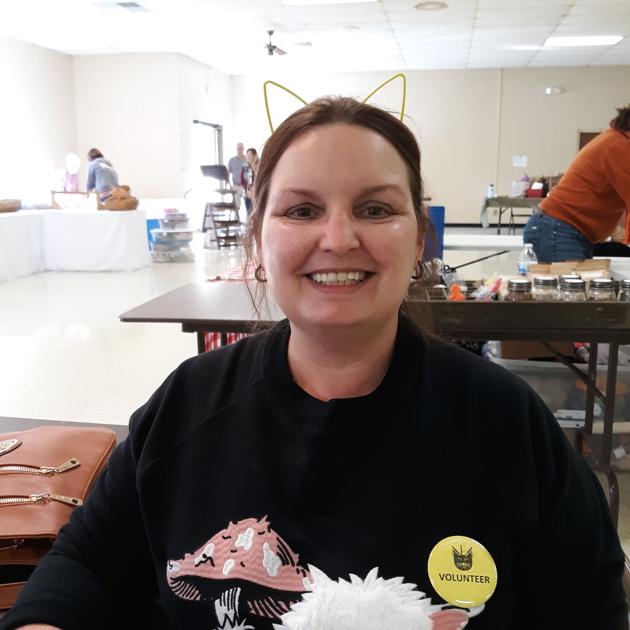 Purrs in the City helps APA cure cats | New
JEFFERSONVILLE – The holiday season is approaching and for many people that means doing acts of charity and giving to those less fortunate than them.
Not only do such acts of kindness include our fellow human beings, but they also extend to our furry friends. There are countless cats in the area that have been abused, abandoned, or do not have a home. And when there are felines in need, volunteers at the Animal Protection Association's Jeffersonville No Kill Cat Rescue Center are there to lend a helping hand (or a paw).
The organization has been helping cats since 1999 and has its hands full as one of the few fully volunteer, no-kill shelters in the Kentuckiana region. They help all the recoverable cats they can, regardless of their age or physical condition. The kittens are then placed in temporary housing, safe, fed and cared for until they return home with their adoptive families.
Although it was cold outside, the atmosphere at the Parish Hall of St. Augustine Catholic Church in Jeffersonville on Saturday was warm for volunteers, vendors and cat lovers. Purrs in the City is an annual event organized by the Animal Welfare Association to receive extra help as they continue to care for abandoned and homeless cats.
Purrs in the City has taken place four times, although it was actually the fifth annual event scheduled. Although many businesses reopened in the fall of 2020, they had to be canceled last year due to COVID.
The turnout this year seemed to be double what it was in 2019. Whether it was a volunteer, a salesperson or a customer, the event organizers made their best to ensure that everyone who has come inside the building has a pleasant experience. Two people brought their own cats and many participants enjoyed seeing and greeting them.
Participants were greeted by volunteers and vendors selling all kinds of crafts (including holiday-related items and decorations), jewelry and books. Music from a local radio station added to the mood as patrons strolled to socialize and shop for treats.
Shortly after the opening and throughout the closing, the room was bustling with activity and conversation. Volunteers sold raffle tickets for raffles for a chance to win a prize offered by each of the vendors. Vendors stamped the cards of those who purchased their merchandise for a chance to win a gift basket filled with goodies from local restaurants and businesses. The raffle took place in the last half hour; many lucky winners took home the prizes they had won.
Christina Mattingly, the main organizer of the event, said she was very happy with the turnout and has high hopes for the future.
"This is our fifth and best year, and we look forward to supporting local artists who support local cats," she said.
As in the past, all vendor booth fees, concession sales and raffle tickets will benefit APA.
"Everyone should spay and neuter their pets," Mattingly added as great advice, which she thinks is the most important.
Overpopulation is a big problem with so many cats in any area.
"Just call one of the shelter volunteers and we'll provide you with resources for spaying your cat," she said.
As is the case with most other animal shelters, it is difficult for organizations to keep up with the growing number of cats. Mattingly said, "We need more volunteers at the cat shelter and our thrift store, Purr-fect Treasures."
The store is located at 146 Spring St. in Jeffersonville and customers can purchase items such as clothing, cat accessories, furniture, antiques, jewelry and more at great prices.
For anyone interested in learning more about the Animal Welfare Association, please visit their website at https://www.apa-pets.org/. The site includes a lot of useful information and even an adoption form for potential cat owners to fill out online. Volunteers typically acknowledge receipt of each adoption form within 48 hours.
Not only do events like Purrs in the City add to the local flavor and bring more visitors to the Jeffersonville area, the community and kittens benefit from this much-needed service, which helps cats find their homes and families forever. .