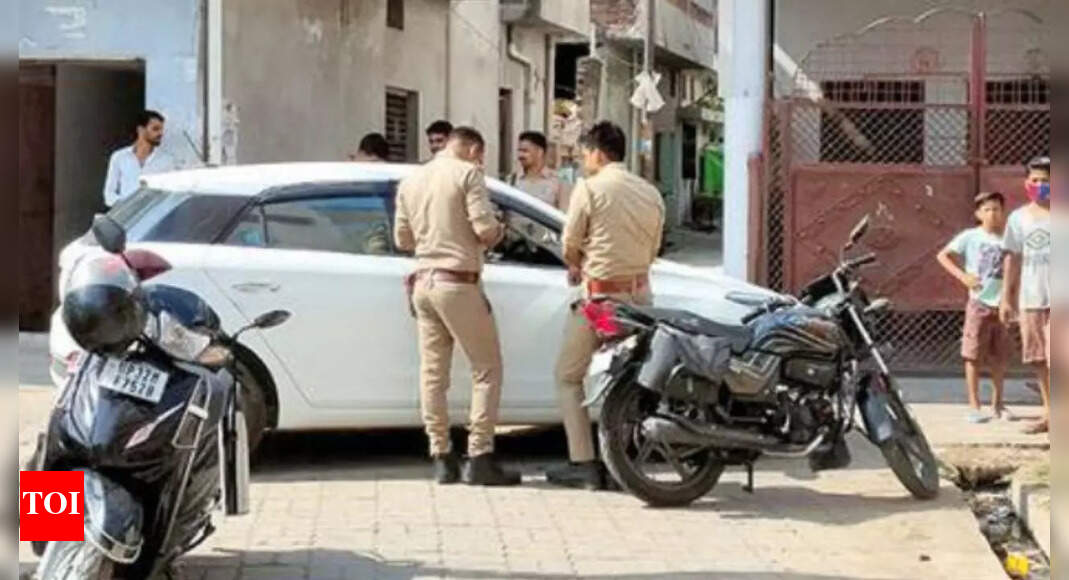 Seven dogs found dead in Lucknow colony, 3 critics; suspected poisoning | Lucknow News
Cops at site where dogs were found dead
LUCKNOW: In a suspected case of poisoning, seven stray dogs were found dead at Madiaon locality in Lucknow, while three others were in critical condition and two others were released after treatment. After police and animal rights activists intervened, the bodies of the dead dogs were sent for an autopsy to determine the exact cause of death. The incident caused an outcry among pet lovers who demanded strict action against the culprits.
The horrific incident erupted when a resident, Rich Singh from the locality of Paltan Chhawni, found two dead dogs near her home on Monday morning. To her surprise, she found 10 other dogs lying in an unconscious state at different locations in the area.
"I checked the breath and found seven dogs dead and five in an unconscious state. Blood and a foam-like white substance were seeping from their mouths," Richa said.
Cops arrived at the scene after dialing 112 and also notified the local police station of the incident. The police asked him for a written complaint. In the FIR, Richa said she suspected some miscreants had poisoned these dogs around 3-4 a.m. Monday. She did not, however, name anyone in the FIR.
Deputy Commissioner of Police, AliganjSyed Ali Abbas told TOI that a police team attended the scene and recorded statements from residents "while we briefed the chief veterinarian on the incident."
"A case under the charges of the Prevention of Cruelty to Animals and Mischief by Killing an Animal Act 1960 has been registered. A police team, trained to investigate the case, collects the CCTV camera footage to identify the miscreant(s) who allegedly poisoned the dogs to death," Abbas said.
Animal rights activist Kamna Pandey then had the five dogs admitted to the government veterinary hospital in Hasanganj.
She alleged that the autopsy could not be carried out on Monday even after obtaining approval from the Chief Veterinarian (CVO) because the carcasses of five dogs lay in the locality for more than 12 hours.
"First, no doctor attended the scene, then no vehicle was available to transport the dogs to Bakchi Ka Talab research institute of the livestock department. Later the cops taking help from a CML vehicle picked up the dogs," she said.
Lucknow CVO Dr DK Sharma said a three-member panel had been formed to carry out a post-mortem examination of the dogs.
FOLLOW US ON SOCIAL NETWORKS
FacebookTwitterinstagramKOO APPYOUTUBE