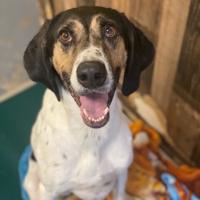 SPCA: Animals can be complex creatures | New
Over the years, the SPCA has prepared for all kinds of animals that it must help and protect. But the turtles were not expected.
It seems that the SPCA pond is home to many creatures, and in the spring the turtles leave the pond and try to cross the highway, especially in May and June, their nesting season.
Volunteer Jim Freitag discovered that two of the pond turtles had been run over as they crossed Highway 16, just across from the SPCA, so he rounded up volunteers – artist Judy Hupf and Sheryl Anderson – to make "Turtle Crossing" signs so people are aware of the situation.
Additional signs will be posted in a few days. Lynda Burton Dunn of Citizen Printing in Allegany can always be counted on to do a great job with whatever is needed, and this time it's with designing and printing more signs, in record time.
IN SEARCH OF GOOD HOUSES: Hank is a 4 year old male coonhound mix. Her favorite activity is walking around, rolling in the grass, and going on walks to get puppy cups. She's an indoor couch potato who likes to snuggle up.
He must be the only animal in the family, but he is great with children and strangers. Hank needs a diligent owner, as he knows how to climb fences, despite having a heart of gold. Hank is an SPCA volunteer favorite who has been with us too long. He was adopted once, but returned six months ago due to life circumstances, through no fault of his own. It initially arrived in 2019.
Trixie is 13 years old and has worked at the SPCA for 11 years. He is an American pit bull terrier, adorable as all, quite courageous and full of life, explains the director of operations, Justin Frazier.
She walks well on a leash, her favorite game is tug and occasionally likes to tear up a good squeaky toy or two. She's housebroken and doing well with most strangers right now. She also loves car rides and all the snacks she can get from her friends. She was originally given up for behavioral issues and deemed unadoptable, but over the past two years, she's had an incredible turnaround. She does well with children 11 and up with a few meet and greets, but should be the only pet in the home.
CATnip KICKERS: Sheryl Anderson is endlessly creative and she has made colorful cat toys that cats go crazy for.
She says they are always available at the SPCA store in the lobby. They are tightly packed with 4 generous tablespoons of dried catnip and polyfill and come with ribbon tails to provide extra playtime fun. They are festively wrapped and make great gifts for your favorite felines. Only $5 each or a pack of 3 for $13.
Our "do-it-yourself" volunteers will also be happy to make them from your favorite fabric. She also reminds everyone of a cute little floral-themed hand-painted cabinet on display at Pleasant Valley Greenhouse, practically across the street from the SPCA. Tickets are $3 each or two for $5. "Please join us as we live stream the drawing on Facebook on June 19, Father's Day."
"NO MOW" MAY: Something new was attempted by Jim Freitag, who has volunteered for years to mow SPCA lawns and clear snow in the winter. Not mowing keeps nesting birds safe for their hatchlings, saves energy and fuel, helps grass health, and reduces air and noise pollution.
A nice practice for others to consider. And then a volunteer farmer will kick and collect hay from the fields in June.
VOLUNTEERS: As you can see, the same volunteer names keep popping up. More is needed, as four of the most active volunteers, like Mimi and Stu Smith and Judy Hupf, have moved away, and Lila Ervay has had to reduce her volunteer time.
The remaining group is made up of nice and lovely people who are fun to spend time with. If you have a special skill, volunteer to use it for SPCA animals. We really need people to walk the dogs, play with the cats, help with the laundry and much more.
Stop by or call if you want to help. If you have the inclination, they have the mission.
CUB SCOUTS AND NATIONAL GRID: The Cubs have volunteered to paint the picnic tables, and they say the tables will look like cows when they're finished.
National Grid did an excellent job of trimming the overgrown trees for the SPCA. A much needed good deed. Thank you all.
POSTAL CARRIER AND ASSISTANCE DOG: A wonderful surprise to meet Beau, the first support dog used by a US Postal Service carrier as he and his partner delivered mail on Main Street last week.
They both seemed to be having fun.
DOG TRAINING IN THE AREA: Alexandria Scott is the owner of Liggett Dog Training, a new business in Cuba. She offers obedience and puppy training, depending on each dog. Contact her at [email protected] or (570) 939-7358.
CELEBRATION OF THE SANCTUARY OF CANINE LIVES: The mission of celebrationofcaninelives.com is to rescue homeless dogs and place them into forever, loving homes using comprehensive adoption procedures to ensure dogs and families are matched well. It is also about providing a lifelong sanctuary for dogs that are difficult to place in adoptive homes due to significant behavioral and/or medical issues.
SPCA in Cattaraugus County, 2944 Route 16 N, Olean, NY 14760. (716) 372-8492. Open Tuesday to Saturday from 12 p.m. to 5 p.m., Sunday from 1 p.m. to 4 p.m., closed on Monday. Visit the SPCA's Facebook page or petfinder.com to see specific cats and dogs available for adoption now.