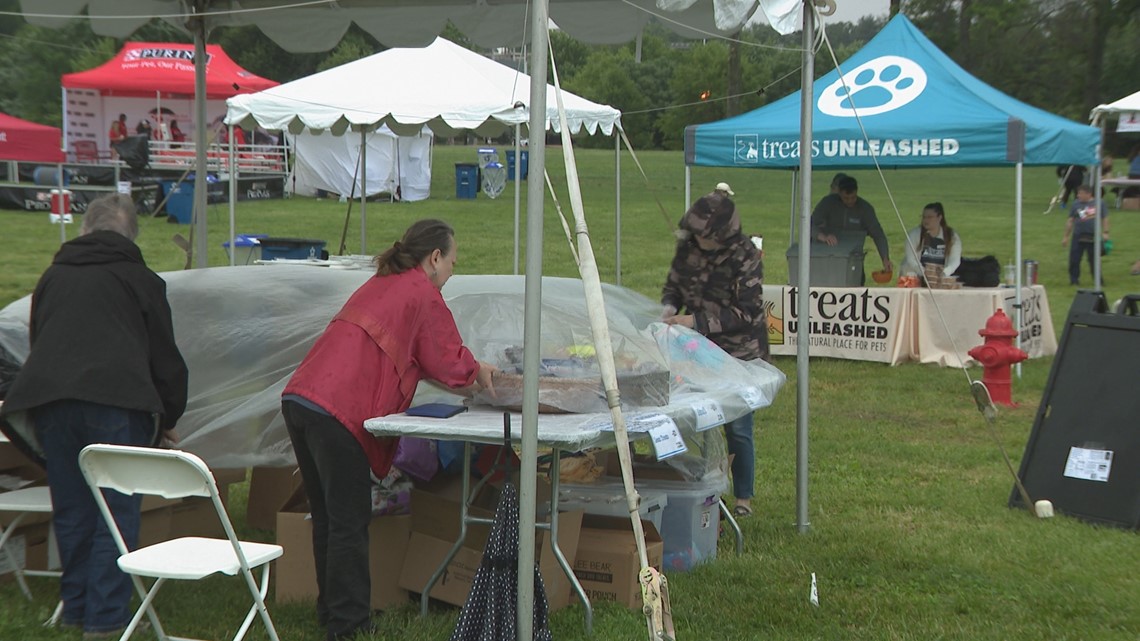 The Humane Society of Missouri's Bark in the Park fundraiser is canceled
The event normally raises $200,000 to support the Humane Society of Missouri's task force addressing animal abuse and neglect.
ST. LOUIS — One of the Humane Society of Missouri's largest fundraisers was closed midway due to heavy storms rolling through St. Louis Saturday morning.
The 27th edition of Bark in the Park, which was due to run from 8 a.m. to 1 p.m., has returned to Forest Park after two years due to the pandemic.
After a 5K and a field full of owners strolling with their pets for a festival, event director Shana Cook and her team decided to call the event off.
A large animal rescue trailer stood near Cricket Field with many puppies and small dogs up for adoption.
Organizers expected at least 1,000 dogs to participate in the fundraiser.
"We are really disappointed but our customers, our guests, our animals, all the dogs that were here, their safety is our priority and we saw that it was getting quite risky," Cook said.
Cook explained that Bark in the Park typically brings in $200,000 a year and they would see a good chunk of the loss due to the abrupt cancellation.
She added that most attendees had registered before the event.
"We will review the finances next week, but it will be interesting to see how we got on," she said.
The task force is an investigative team that responds to animal abuse and neglect calls around the clock in St. Louis and throughout Missouri.
The organization plans to hold the event again next year.
People can still donate online to Bark in the Park and look for other upcoming events this summer.
The Humane Society always has pets available for adoption. You can visit the Humane Society of Missouri website to learn about upcoming events and see animals available for adoption.