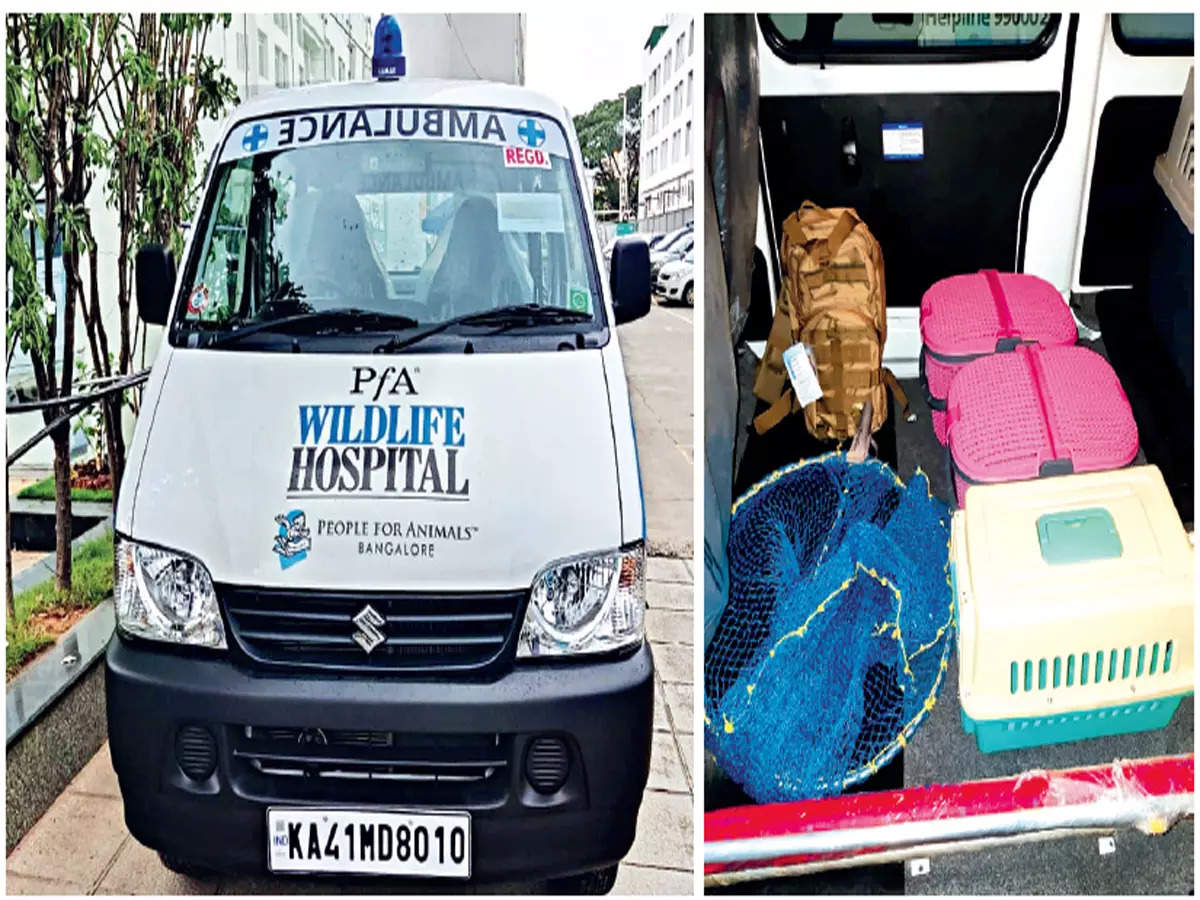 Urban wildlife rescue gets a new set of wheels
Ambulance equipped with modern equipment to help animals in distress in Yelahanka; will help save trapped birds
A brand new ambulance with upgraded animal rescue equipment is going to be added to the infrastructure fleet for urban wildlife rescue in Yelahanka. It will be managed by the People for Animals (PfA) hospital headquartered in Uttarahallia western suburb of Bangalore.
"We have received a lot of animal rescue calls in Yelahanka and surrounding areas where there are lots of lakes and green vegetation, including a center for urban wildlife in University of Agricultural SciencesGandhi Krishi Vignan KendraGKVK, on ​​Bellary Road," said Managing Director/Chief Veterinarian Col. Dr Navaz Charif.
Earlier they had to send our rescue team from Kengeri, Uttarahalli Main Road to Yelahanka for the rescue of an animal in distress. This would easily be around 44 km via the NH-48 Ring-Road Highway or a few km less if taking the Dr Puneeth Rajkumar road. With city traffic, it would take at least an hour and 15 minutes to reach the destination (Yelahanka), and by then the rescue volunteers would not be sure what happened to the distressed animal.
Adding more to the animal rescuer's woes, they had to rope themselves into the Fire and emergency services' fire engines and other equipment like their ladders to climb trees and buildings to rescue trapped animals and birds, but now with this new ambulance, there's no need for that.
Software engineer and manager of an IT company, Rajasekhar Halaharvi (51), a resident of Yelahanka has decided to do his part for animal rescue services. He observed that an ambulance took approximately four hours to arrive at the location where the animal was in distress. "Three months ago a monkey fell out of our apartment and I called animal rescue and they took almost four hours to arrive but by then the monkey died. Later I 'found another macaque had been electrocuted and was sitting still where I again called an animal rescue ambulance," Halaharvi said. He then decided to donate some money and purchase an animal ambulance to be stationed at his home in Yelahanka and go for animal rescue operations in and around that location.
He contacted the Managing Director of PfA and offered to donate Rs 8 lakh for the purchase of an ambulance which will be exclusively used for rescuing urban wildlife and other animals in distress. And in no time, a Maruti Eco was bought for Rs 6 lakh and the new van was made as an animal ambulance with lifesaving equipment worth Rs 2 lakh. A driver and volunteer rescuer have also been appointed by the PfA.
No strings attached

The highlight of the ambulance was that it carries unique equipment. It is a metal pipe about 10 to 12 feet in height, and can go up to a height of 100 to 120 feet. It is a one-man-operable piece of equipment costing around Rs 1.2 lakh and mainly used to rescue birds, reptiles or smaller animals that are entangled in manja threads on trees.
This is just the beginning, and I can't wait to expand the presence of these animal ambulances across Bangalore, let's see how it goes
–Rajasekhar Halaharvi, software engineer
"Each figure in this metal pipe arm interlocks as it rises in height and there is a maze above it which can be rotated by the standing operator so that the manja thread breaks and the rescued bird is trapped in the maze of equipment.Once the bird is rescued from the entanglement, each figure unlocks as it descends with the rescued bird safely in the maze. This equipment should be transported in a four-wheeled vehicle that is about 10 to 12 feet tall when it unlocks and returns to its normal size," the vet said. Dr Sharif.
Previously, rescue volunteers had to rely on fire engines and their ladders to reach heights, but now that is no longer necessary, the doctor added. Besides this equipment, there are also other basic rescue kits, hand torch, headlamp, snake grabbers, snake bags, animal restraint cages, nets, etc.
"It's just the beginning, and I'm looking forward to expanding the animal ambulance presence in Bengaluru, and let's see how it goes," Halaharvi said. PfA's Sharif said he wants to have similar ambulances in Electronic City, Bannerghatta and other places in Bengaluru.